WOW!!!...I've been fighting a cold for the past couple of days...and I was feeling absolutely awful...I seem to be almost getting over the worst of it...I did feel like making a card this morning...it was 4am and I had nothing better to do anyway...so I made these cards.
I love this bird die...it makes a very quick and easy card...I will also be entering these cards into the Make it Monday Challenge #145.
I added the jewelry tags and put a Spring Dews mini Dew Drop on the top portion of it.
I used the mini discs at the bottom of the cages to give it a bit of pizzazz.
I really like the jump rings that I added to the top of the cage...makes the bird cage look like it's ready to be hung from the ceiling.
Stamp set: teeny tiny wishes.
Card stock: kraft...assorted paper scraps...and white printer paper.
Punches: word window...1/16 hand held circle...jewelry tag...caged bird die...and Poteeka birds embossing folder.
Additional supplies: green/clear/purple mini discs...crystal effects...snail...gold and silver jump rings...s/u mini glue dots...s/u acrylic blocks...big shot...fiskar...stampin' dimensionals...simply scored plate...and Spring Dew dew drops from the Robins nest.
Make sure to stop by Make it Monday and see all the wonderful cards the DT and the other ladies are sharing over there.
http://ppp-makeitmonday.blogspot.com/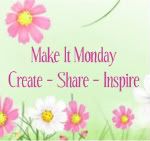 Thanks for dropping by and visiting with me this morning...I hope you enjoyed checking out my card...I'm going back to bed with a nice cup of hot tea maybe with some lemon and honey...have a great day and a stampin' good time.