Today's your Birthday America...
They say it's your birthday
We're gonna have a good time...I'm glad it's your birthday
Happy birthday to you...thanks to all our military men...women and their families who sacrificed so much so that we can all enjoy today.
This project is a do over...I have never used these gift tags I made some time ago...so I redid them as Birthday Cards which I know that I will use...I love the look of them.
How about that Happy Mail stamp...I love it...I'm going to use it lots of times on my envelopes.
There is stars all over...inked stars...chalked stars...punched stars...I don't think I could've squeezed one more star onto my cards...lol...luvin' the stars I am.
Stamp sets:teeny tiny wishes...tiny tags...in the stars...and happy mail.
*****
Card stock: real red...not quite navy...kraft...American journaling tags...assorted scraps...and cream printer paper.
*****
Inks: not quite navy and real red.
*****
Chalks: stampin' pastels.
*****
Punches: word window...tasteful trim die...large and scallop ovals...jewelry and long tags...large and small stars...1/4" and 1/16" hand held circles...and distressed strips folder.
*****
Additional supplies: airmail bakers twin...metallic red brads...s/u mini glue dots...sticky strip...snail...big shot...simply scored plate...and fiskar cutter.
I've entered these cards into the Make it Monday Challenge #147 this week...please remember to stop over there and check out the fantastic work the ladies have to share.
http://ppp-makeitmonday.blogspot.com/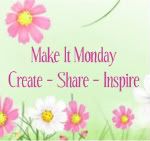 I also entered these cards over at PPA 162 Challenge...Remember to also stop on over at the Pals paper Art Challenge to see what every one over there has to share also.
http://stampinpretty.typepad.com/pals_paper_arts/
This week at Through the Craft Room Door...it's an Anything Goes Challenge...stop by and check it out.
http://www.craftdoormagazine.com/2013/07/ttcrd-challenge-july-2-july-8th.html#links/
Challenges 4 Everybody...Challenge #23...stop by whether or not you want to enter...the projects are fabulous.
http://challenges4everybody.blogspot.co.uk/2013/06/challenge-23-anything-goes.html
This morning I walked the dogs at 5:30 and it was already 75 degrees...
it looks like today promises to be an extremely hot one...as my grandson would say "maybe Grammer you need a pool...maybe"...for some reason "Maybe" is his favorite word...lol...thank you all for stoppin' by this morning...have a fun but safe holiday...try and stay cool...Please remember our Furbabies in this hot weather...if your hot...they're twice as hot...keep them indoors with plenty of cool water...and I hope you all have a stampin' good time.
God

Bless

America.