The challenges give you so much inspiration...here are a couple of cards I made this morning...I don't think I've ever made belated birthday cards...so at least I'll have these in my stash ready to go...just in case...I was thrilled to use the new technique of using my punches to make the mini bows...anything that's quick and easy...you know I love it.
I also ran the ribbon with the card stock through the big shot with my honeycomb embossing folder...I think it embossed the ribbon very nicely...I love it.
I used my punches to make the paper ribbons...then pieced them together.
This is the easy recipe:
Stamp set: it's your birthday.
*****
Card stock: Kraft...assorted paper scraps...and cream printer paper.
*****
Ink: midnight muse.
*****
Punches: wide oval...word window...1" square...and honeycomb textured impressions embossing folder.
*****
Additional supplies: crystal effects...snail...sticky strip...s/u mini glue dots...simply scored plate...big shot...yellow mix mini discs...fiskar...and yellow ribbon.
Don't forget to drop by these fabulous challenges for some inspiration from the DT Members and the other entries...thanks so much for stoppin' by this morning...it's a little chilly here...but I'm not complaining as long as there's no humidity I'm a happy girl...have a great day...and I hope you all have a stampin' good time.
Over at Make it Monday this week Challenge #152 has some fabulous cards to share.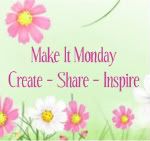 http://ppp-makeitmonday.blogspot.com/2013/08/mim152-with-cc-designs.html
Over at Crazy 4 Challenges we are doing some paper piercing on our cards.
http://crazy4challenges.blogspot.com/2013/08/crazy-4-challenges-c4c197.html
Over at JUGS...it's their 200th challenge...how cool is that.
http://justusgirlschallenge.blogspot.com/2013/08/challenge-200.html