I love these colours...so Americana...so Patriotic...I just had to jump into this challenge...and these are the cards I made to enter into the Color Thrown Down Challenge and for Make it Monday Challenge this week...I love how the cards turned out.
The Doliy Die from Stampin' Up is just fabulous...I will never have to buy another store bought doily to do a card or project again...and I will be able to make them in any colour my heart desires...with the doily below...I only punched out a few of the cutouts...it makes this doily look more solid.
As you can see...this doily looks more open...I punched out much more of the die cuts...giving the doily a more softer look I think.
Don't you just love banners...they do so much for a card or a layout...yes I do...I love the banners.
These dewdrops are called Golden Berry...they were just perfect for this project...the clear ones weren't really clear...they were more of a pearly colour...and the gold was just the perfect shade...not glittery or too shiny at all.
Stamp set: it's your birthday.
Card stock: night of navy...real red...crumb cake...kraft...whisper white...American Flag DSP...cream and white printer papers.
Punches: large paper doily die...large petite pennants...decorative label...and distressed stripes folder.
Additional supplies: playground designer buttons...stampin' dimensionals...snail...s/u mini glue dots...crystal effects...fiskar...airmail bakers twine...s/u white bakers twine...golden berry dew drops...simply scored plate...and big shot.
Stop over and see what the DT Members and the other ladies have done with their red...white...blue...and crumb cake projects...just so darn Patriotic and cute...I can't pick a single one...I love them all.
http://www.colorthrowdown.blogspot.com/2013/06/color-throwdown-247.html
Also don't forget to drop over and visit the DT members and the ladies over at Make it Monday...who have done some fabulous work here too.
http://ppp-makeitmonday.blogspot.com/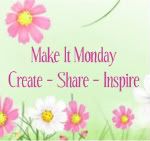 Thanks for stoppin' by this gorgeous morning and sharing my Patriotic project with me...I hope you all like the cards as much as I do...have a fabulous weekend everyone...and I hope you all have a stampin' good time.
Stampin' HUGZ
Beverley