I told you that I had so much fun doing those chevrons cards over the weekend that you might just be seeing more of them...well!...TaDa...I didn't waste any time...I love making these chevrons.
..I will have to keep making them...and making them till I can do it with my eyes closed...so be prepared to see plenty of chevrons in my projects...lol.
On these sets of cards I chose to have the chevrons closed.
..it certainly gives a different look from the cards I made over the weekend with the chevrons being open...I love this look also.
The tiny crystals really make the card pop...I love these mini crystal bling on my cards...I hope you can see that I ran the stripes folder over the card and the chevron.
Here is the easy recipe:
Stamp set: friendship preserves.
*****
Card stock: very vanilla...cherry cobbler...midnight muse...patriotic DSP and cream printer paper.
*****
Ink: cherry cobbler...and midnight muse.
*****
Punches: window frame framlits and textured impressions stripes folder.
*****
Additional supplies: s/u mini glue dots...snail...crystal effects...stampin' dimensionals...simply scored plate...big shot...bone folder...mini round crystals and acrylic blocks.
Thanks so much for stoppin' by this morning...it's so hot already...I'm going to have a tall glass of ice tea...stay cool everyone...have a wonderful day...and I hope you all have a stampin' good time.
Don't forget to stop over to the Make it Monday Challenge #149 and see what the ladies over there have to share with us this week...they never seem to disappoint.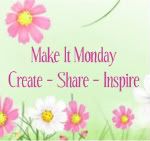 http://ppp-makeitmonday.blogspot.com/2013/07/mim-149-with-bugaboo-stamps.html.
Stampin' HUGZ
Beverley